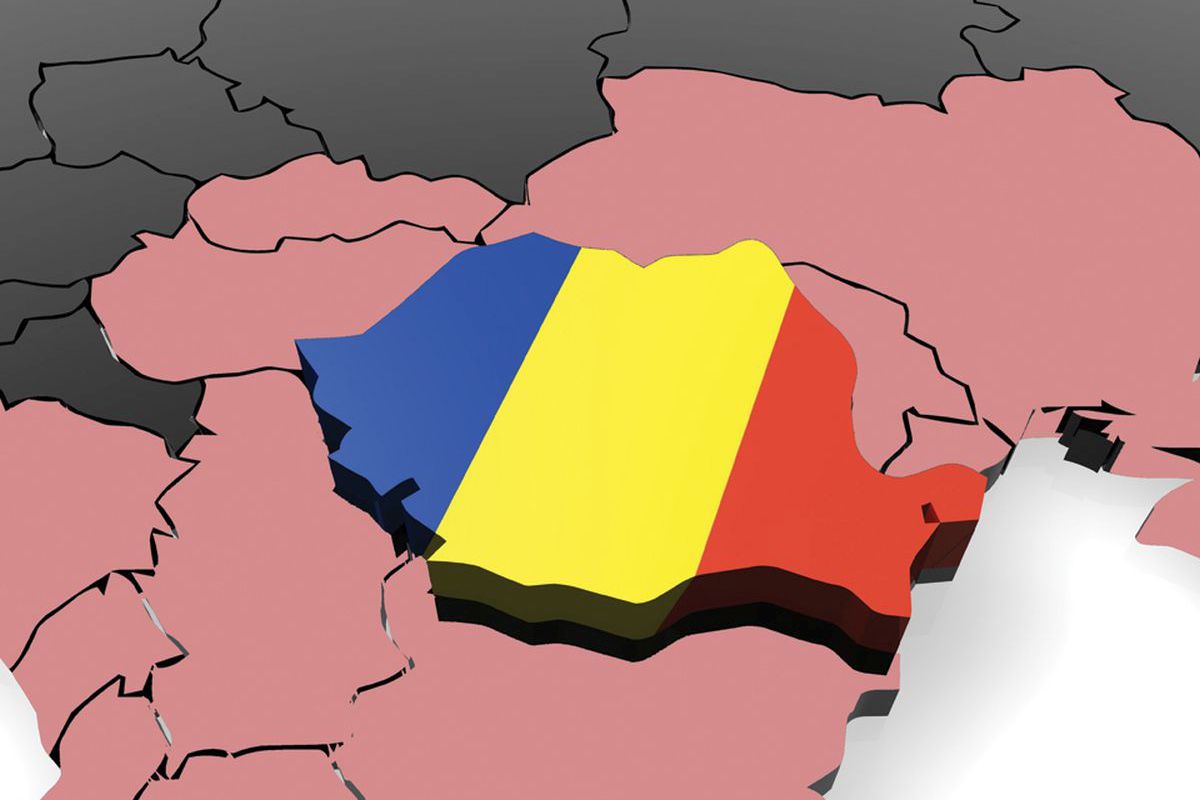 Romania, one of the most important countries in South-Eastern Europe, is located in the northern Balkan Peninsula, inside and outside the Carpathian Mountains, the lower Danube and the Black Sea spanning. With an area of ​​238,391 square kilometers, Romania lies between 43 ° 37 '07" and 48 ° 15′ 06" north latitude and 20 ° 15 '44" and 29 ° 41′ 24" east longitude.
Romania is bordered to the north and east by Ukraine and Moldova to the west, Hungary in the south-west with Serbia, south of Bulgaria and Southeastern Black Sea. Two thirds of frontiers following courses of rivers (Danube, Prut and Tisza) and the coast (Black Sea), and the third is drawn on the ground.
Romania enjoys a temperate continental climate typical for Central Europe, with four seasons defined. Local differences are caused by altitude and slight oceanic (west), Mediterranean (south-west) and continental (east).
According to census of 20 October 2011, Romania has a population of 20.121.641 inhabitants and ranks 81st in the world and 12th in Europe in this regard. From administrative point of view, the country is divided into 40 districts (counties) headed by prefects. Romania's capital is Bucharest.
Major cities in number of inhabitants are (at 1 July 2018): Bucharest (2.121.794), Iasi (376.180), Timisoara (329.003), Cluj-Napoca (324.267), Constanta (313.931), Galati (303.058), Craiova (301.924), Brasov (289.646), Ploiesti (228.550), Oradea (221.398) and Braila (203.876).
Population Dynamics (after years of census) was as follows: 8.6 million (1859) 12,923,600 (1912) 14,280,729 (1930) 15,872,624 (1948) 17,489,450 (1956) 19,103,163 (1966), 21,559,910 (1977) 22,810,035 (1992) 21,680,974 (2002). Maximum number of inhabitants was reached in 1989 to 23,151,564. Today, around 8 million Romanian living in abroad.
Density Romania 91.5 inhabitants / square kilometer, is almost the same as in Austria or Slovenia, placing us 74th in the world and 26th in Europe.The birth rate in Romania is 10.5%, 13.2% mortality rate and natural growth rate of 2.7%. Negative natural increase has been registered since 1992 and has resulted in reducing the country's population. There were 6.5 marriages and 1.54 divorces per thousand people.
Life expectancy in Romania is 68.55 years for males and 75.51 years for females and age structure: 0-14 years – 19.2%, 15-59 years – 62.3%, 60 years and over – 18.3%.
According to statistics, the total population, 89.5% are Romanian speakers, speakers Hungarians 6.6%, 2.5% Roma, 0.3% German, 0.3% Ukrainians, and other ethnic minorities.
From the religious point of view, population is Orthodox 87%, Roman Catholic 5%, other 8%.
Romania is the leu currency and internal convertibility of the national currency was introduced in November 1991. National Bank of Romania has decided that as of July 1, 2005, are legal tender denomination undergone so that 10,000 old lei, in circulation at that time, were exchanged for 1 new leu (RON) . 1 leu (RON) = 100 bani (division of lion).
Romanian language is the mother tongue for about 90% of the population. Direct language has its roots in Latin. Ethnic minority citizens can freely use their mother tongue in schools, administration, justice, media, and culture.
The main language used in Romania are: English, French, German, Italian.
This post is also available in:
Romanian